For drivers around Baton Rouge and Monticello looking for a vehicle that will provide SUV-like cargo space and sport-car-like performance, consider reading through this insightful 2019 Jaguar E-PACE review. The Jaguar E-PACE is a dynamic model that is outfitted with the latest technology offered by this prestigious brand.
To help you get a better feel for this vehicle, Jaguar Baton Rouge made this review which will touch on features like performance, exterior styling, and the in-car technology. So, keep reading to see if the Jaguar E-PACE will fit into your daily routine!
Two Unique Engine Options
You can outfit your 2019 Jaguar E-PACE with one of two distinct engine options. No matter which one you choose, you'll receive zippy acceleration and bristling top-end speeds.
The first option is the 2.0L 4-cylinder engine that is typically accompanied by a 9-speed automatic transmission. This motor can capably produce 246 horsepower, 269 lb-ft of torque, and features a top speed of 143 MPH to go with a 0-60 MPH speed of 6.7 seconds.
The alternative option is a 2.0L 4-cylinder engine that is also paired with a 9-speed automatic transmission. However, this option showcases 296 horsepower, 295 lb-ft of torque, and a top speed of 146 MPH to go with a 0-60 MPH speed of 6.1 seconds.
Sleek Exterior Jaguar Design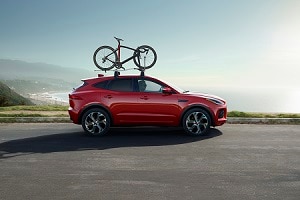 The 2019 Jaguar E-PACE holds true to the Jaguar heritage by maintaining a regal appearance that blurs the line between traditional and contemporary.
The fascinating honeycomb-grille is a showstopper, immediately grabbing the attention of pedestrians. It also helps that two LED headlights flank this grille, creating a vibrant front hood display.
The roofline runs low, sweeping over the vehicle before blending effortlessly with the rear spoiler. The tires typically run 21-inches in size and can be customized with a number of rim designs.
Lastly, you can opt for the Panoramic Roof which creates a mind-boggling view for passengers in every row!
2019 Infotainment Technology
Keeping you entertained is a major priority for the Jaguar E-PACE, and the interior technology showcases just how serious the developers were in obtaining this goal.
The Touch™ Pro system, for instance, gives you access to four customizable home screens as well as fast response voice control. You can also divvy up your touchscreen to better access features. So, the main screen can serve as a navigational option, while the side panel is used for making phone calls.
If music is your thing, or even if you listen to podcasts on your daily commute, you'll instantly fall in love with the renowned Meridian Signature Sound System. This set up sports 26 speakers including two subwoofers, has 1300 watts of power, and showcases the world's first in-car Trifield 3D technology.
Jaguar E-PACE Interior Layout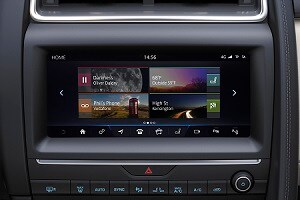 There's a lot to see when you first enter the cabin of the 2019 Jaguar E-PACE. This model is out-fitted with style, technology, and plenty of space.
First, you can personalize your cabin by selecting from premium materials and textures plus a vibrant array of color combinations. There's also the configurable ambient interior lighting which exudes a soft pool of light in one of ten different colors.
Finally, we get to cargo room. If you're shuttling kids from one practice to the next, you can keep the second-row seats standing and utilize 24.2 cubic feet of cargo room. If you don't have any passengers in the second-row, however, you can fold those seats flat, and your cargo room balloons to 52.7 cubic feet.
Take a Cruise in the Ferocious 2019 Jaguar E-PACE
The athleticism of the Jaguar E-PACE can be heard as soon as you begin to press down on the pedal. So, get behind the wheel and go for a cruise near Baton Rouge or Monticello. After that, our team at Jaguar Baton Rouge will help you move forward in the car-shopping process! Contact us today!